When you hear the words financial management, cash flow strategies, or balancing your checkbook, which of the following do you do?
Roll your eyes and think to yourself, "BORING!"
Zone out and think of something else.
Say, "I'm not good with numbers."
Get excited about dealing with the numbers.
If you are like most entrepreneurs and practitioners, getting excited about the numbers is probably not one of your choices.
Believe it or not, despite the fact that doing business is about making money, entrepreneurs and practitioners often have little interest in learning the intricacies of managing money.
Yet the businesses that succeed financially are those with leaders who are willing to pay attention to their numbers.
A new way of looking at your finances Continue reading
Do you remember the fuss about the movie and book The Secret and the Law of Attraction? The basic theory presented was that if you get your mind in the right place, everything you need will just show up. I was amazed at how many people I met were absolutely sure they were going to win the lottery.
Long before The Secret came out, I did endless affirmations, created and hung a treasure map where I could see it every day, and imagined I was acting as if I was wealthy.
I was also training myself to stop worrying, criticizing myself, and complaining, and I was cultivating an attitude of gratitude.
Did money come flying in the window? Did I suddenly have a lot of customers? Continue reading →
I recently had a few new AHAs about how family-of-origin experiences and messages from parents during childhood affect finances years later.
In a nutshell here they are:
1. Craving money or feeling poor is similar to the feeling of wanting to be touched. This forms in early childhood because of inadequate bonding and lack of affection.
2. Any kind of childhood abuse, including mild but frequent emotional abuse, can lead to feelings of low self-worth that are acted out through underearning, debting, overspending, and other financial behaviors.
Because this is a fairly complex issue, I'd like to suggest that you listen to the audio below. This audio, which is about 15 minutes long, is taken from the introduction to the December 6th Peace of Mind & Prosperity program teleclass.\
Audio clip: Adobe Flash Player (version 9 or above) is required to play this audio clip. Download the latest version here. You also need to have JavaScript enabled in your browser.
At the beginning of each of the Peace of Mind & Prosperity teleclasses, I present ideas and experiences that can help program participants. The introductions are followed by interactive coaching with participants. Read more about the Peace of Mind & Prosperity Program and the new Free Trial.
I hope you'll take a few moments to listen to this audio. The information has impacted virtually everyone with whom I have shared it. I'll be telling you soon about a teleclass I'll be doing next month on this topic.
If you find the audio interesting, I hope you'll comment on the blog post below and share it with your friends.
Here's a game for you to play:
Imagine that you have won a $10 million lottery, something you've probably thought about more than once.
Once you get over the excitement of winning, you'll have to make some practical decisions. You'll also have to deal with a whole lot of emotional issues. If you haven't thought about both of these, then you aren't serious about achieving a high level of wealth.
By examining the issues that I'm going to propose here, you'll be able to discover some of your blocks to creating wealth.
The Practical Decisions
On a practical level, ask these questions: Continue reading →
Do you have someone you can talk to about your finances in a rational way? Or do you just think, worry, and fret about how much you have or don't have?
Perhaps you're unhappy about your financial behaviors — like overspending, avoiding saving, or being generally vague — but you don't talk about these topics. .
Not talking about money can cost you big bucks.
Why People Don't Talk About Money
Most people avoid talking about the specifics of their finances. They might complain about their situation or the general economy without ever discussing their own numbers – how much they have, how much they need, etc. Continue reading →
I'm doing a series of videos on YouTube and will post them here. View my YouTube Channel. (It will open in a new tab/window.)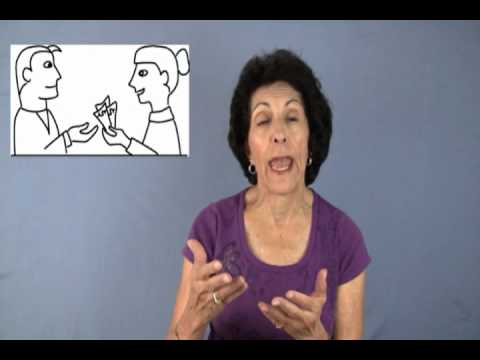 When you look at your bank balance, do you feel uncomfortable?
When you get a bunch of bills, do you want to just ignore them?
Do you tend to compare your earnings to the perceived income of others?
Do you usually think that your income or net worth is inadequate?
These are all symptoms of financial shame, and if any of these apply to you, I can assure you you're not alone. When I first make contact with coaching clients or people on my programs, the most common feeling they express about their money is shame.
In our "more" society, finding personal satisfaction with your financial position is difficult. Advertising through all forms of media often perpetrates the message that you should earn more, own more, achieve more, and be more. For many people, this leads to feelings of inadequacy and shame Continue reading →
1. Be clear about what you want and need. Remember this favourite saying of mine: If one of us has to be uncomfortable, it doesn't have to be me.
2. When you are having financial difficulties, instead of thinking about who you can borrow money from, ask yourself, "How can I generate the money that I need."
3. Clean out the old to make way for the new. Get rid of clutter and give away things you haven't used in a long time and probably won't use again.
4. If you aren't keeping track of your spending and earning, set up a system for doing this. If you have a smart phone, check out the available money management apps. Continue reading →
Somewhere along the line, marketers discovered that fear sells. As a result, our ever-present media is constantly reminding us to be afraid. Advertisements and news stories thrive on stoking up our fear.
Politicians constantly warn us to be afraid of the "other." Watch the upcoming political ads (for as long as you can stand them) and notice how fear is often the main theme.
Since our emotions are the creative force behind our life stories, our communal fear contributes to the development of situations such as the financial meltdown, the political divide, terrorism, and our willingness to go to war and kill other people as a solution to our problems.
Feelings of powerlessness that are exacerbated by fear keep people believing that they are victims of life's circumstances and there's nothing they can do to fight the forces of power keeping them in servitude.
To which I say, hogwash! Continue reading →